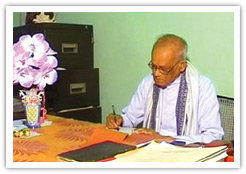 Editor's Note
There are individuals with vision; but without ideas about means for achieving them. There are people with ideas; but without ways for accomplishing them. Men are rather rare who dream great dreams backed up by practical wherewithal for realizing them. Such people assume greatness by succeeding in putting their creative vision into tangible effect. They construct institutions and establishments by way of shaping their visions. They create great art, books, institutions and ideas. They are builders of the nations. In India there are examples like Vikram Sarabhai in science JRD Tata in industry and Vallathol in art. In Kerala we are fortunately witnessing now a living and contemporary legend as example for such greatness - Rev. Fr. Gabriel.
It was Mark Twain who wrote, "twenty years from now, you will be more disappointed by the things you did not do than by the ones you did. So throw off the bowlines, sail away from the safe harbor. Catch the winds in your sail. Explore. Dream." Fr Gabriel, by this saying, would have nothing to regret as he has left very little not done in his nine and odd decades of living. In fact Fr. Gabriel's life was full of karma or action right from his adolescence when he threw off the bowlines, and has not stopped exploring yet, till his nonagenarian years now !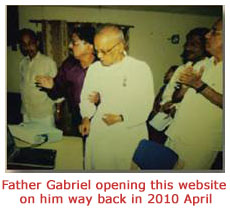 Fr Gabriel's finest hour was, perhaps, the time he spent as the principal of Christ college, Irinjalakuda. His strict and tactful administration made the institution grow from scratches to one of the best run colleges in the country. Father was young then , and had the guts and patience to stand up to the causes he felt inviolable. Father's impeccable manners, eloquence, command, concern for his students, generosity ,diverse interests, intuition to locate and encourage talent and ability to tackle issues and individuals et al earned him enormous respect of his students and of all those who came in touch with him. The two formative decades of Christ college with Fr Gabriel as it's leading light were the most glorious times of the institution as it earned innumerable laurels in academia, sports and arts apart from winning the UGC recognition for the best run college, during this period of time. A firm ground for future development of the college was ready by the time Father was to bid adieu to the college on superannuation in 1975.
We, the products of Christ College, picked up a lot of good things which came handy for us in our future life, from Fr. Principal. We also learnt our basic lessons in aesthetics and discipline from the love he manifestly showed for the trees and flowers in the college garden, the care he took to maintain the magnificent college ambience and his strict demeanor. Fr. Principal imparted a sense of poetry and pantheistic thought in his pupils like us without being conscious or deliberate about it ! We attributed traces of Wordsworth and Spinoza in Fr. Principal in our impressionable years in his college!!
The worth of systematic hard work, the knack of dealing with creative and accomplished individuals, importance of good manners and appearance and significance of acquiring knowledge were all absorbed from the example of Fr. Principal. Thus, the years, two decades, the Father spent as principal of Christ college conducting himself as magnificent role model endeared him to students and teachers alike apart from remaining the most vital source of inspiration. For us, the ex-students of the college during Father's period, the thought of Fr. Gabriel ,ever since, has evoked deep affection, great respect and nostalgia.
The impeccable record of management and administration that Fr. Gabriel created in establishing Christ College had already spread wide and far by the time he was retiring from the college. A large segment of people in Kerala drew the conclusion that Fr. Gabriel's leadership ideally would make the proposed cancer hospital near Thrissur a reality, after his retirement. Fr. Gabriel graciously accepted the lead and as his wont, began the work with his usual study of the project, mobilization of funds, planning of proceedings, conditions of strategy and allocation of tasks. Stage by stage, in the course of a few years, the hospital and research center for cancer cure was completed and it stands now as a monument of excellence in the field of the treatment of the dreaded disease.
These two institutions will remain for ever as the praiseworthy results of Fr. Gabriel's innovative and managerial skills.
Father Gabriel who was not sick except for mild ailments, suddenly passed away at his monastery quietly in the evening of 11th May 2017, making all his followers, students and admirers in deep sorrow. He was accorded a state funeral suited to his stature and buried in the St. Thomas Church, Irinjalakuda, his dear town that the Father lived and worked for several years.

- E.G.K. Menon